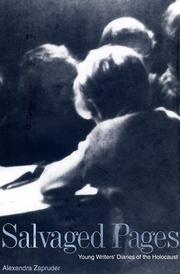 JUV
DIARY
ZAP
Salvaged pages : young writers' diaries of the Holocaust
New Haven : Yale University Press, c2002.
xviii, 481 p. ; 25 cm.
This collection of diaries, written by young people during the Holocaust, reflects a vast and diverse range of experiences - some of the writers were refugees, others were hiding or passing as non-Jews, and some were imprisoned in ghettos. The volume contains extensive excerpts from 15 diaries, ten of which have never before been translated and published in English. The diarists ranged in age from 12 to 22; some survived the Holocaust, but most perished. Taken together, their accounts of daily events and their often unexpected thoughts, ideas and feelings serve to deepen and complicate our understanding of life during the Holocaust.
Available
Youth Diaries
1 copy available at Holocaust Museum Houston
| Field | Ind | Subfield | Data |
| --- | --- | --- | --- |
| 001 Control No | | | 1513 |
| 005 LastTransaction | | | 20180326155731.0 |
| 006 Data Elem Addl | | | a 000 0 |
| 008 Data Elements | | | 010823s2002 ctu b 001 0ceng |
| 010 LCCN | | $a Record content licensor | 2001046650 |
| 020 ISBN | | $a ISBN | 9780300092431 (alk. paper) |
| 035 System Ctrl No | | $a System control number | (DLC) 2001046650 |
| 040 Cataloging Src | | $a Original cataloging agency | DLC |
| | | $c Transcribing agency | DLC |
| | | $d Modifying agency | DLC |
| 041 Language Code | 1 | $a Text/soundtrack/separate title | eng |
| | | $h Orig/intermediate tranlations | mul |
| 050 LC Call No | 00 | $a Classification number | D804.48 |
| | | $b Item number | .R85 2002 |
| 082 Dewey Class No | 00 | $a Classification number | 940.53/18/092 |
| | | $2 Edition number | 21 |
| 245 Title | 00 | $a Title | Salvaged pages : |
| | | $b Remainder of title | young writers' diaries of the Holocaust / |
| | | $c Statement of responsibility | collected and edited by Alexander Zapruder. |
| 260 PublicationInfo | | $a Place of publication, dist. | New Haven : |
| | | $b Name of publisher, dist, etc | Yale University Press, |
| | | $c Date of publication, dist, etc | c2002. |
| 300 Physical Desc | | $a Extent | xviii, 481 p. ; |
| | | $c Dimensions | 25 cm. |
| 504 BibliogrphyNote | | $a Bibliography, etc. note | Includes bibliographical references (p. 471-472) and index. |
| 650 Subj:Topic | 0 | $a Topical term | Jewish children in the Holocaust |
| | | $v Form subdivision | Diaries. |
| 650 Subj:Topic | 0 | $a Topical term | Holocaust, Jewish (1939-1945) |
| | | $v Form subdivision | Personal narratives. |
| 700 AE:PersName | 1 | $a Personal name | Zapruder, Alexandra. |
| 852 Holdings | | $p Barcode | 5082 |
| | | $h Classification part | JUV DIARY ZAP |
| | | $b Sublocation or collection | GENERAL COLLECTION |
| | | $6 Linkage | BOOK |
| | | $7 | DONATION/MINCERG |
| | | $a Location | HMH |
| | | $9 Cost | $0.00 |
| 852 Holdings | | $p Barcode | 5078 |
| | | $h Classification part | D804.48 .S33 2002 c.3 |
| | | $b Sublocation or collection | GENERAL COLLECTION |
| | | $6 Linkage | BOOK |
| | | $a Location | HMH |
| | | $9 Cost | $0.00 |
| 852 Holdings | | $p Barcode | 12571 |
| | | $a Location | HMH |
| | | $h Classification part | JUV DIARY ZAP c.2 |
| | | $9 Cost | $0.00 |
| 856 ElectronicLocat | 4 | $3 Materials specified | Cover image |
| | | $u Uniform Resource Identifier | https://covers.openlibrary.org/b/id/161741-M.jpg |
Editorial Reviews