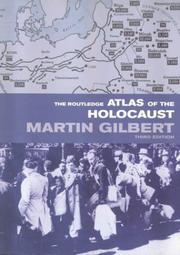 REF
G1797.21
.E29
G583
2002
The Routledge atlas of the Holocaust
London : Routledge, c2002.
282 p. : ill., maps, ports. ; 26 cm.
Using primary and secondary resources, Martin Gilbert created more than 314 maps to provide a chronological presentation of how the Holocaust evolved. The Atlas documents communities destroyed, acts of resistance, revolt, escape, rescue, and fate of individuals.
Available
Reference Collection
1 copy available at Holocaust Museum Houston
| Field | Ind | Subfield | Data |
| --- | --- | --- | --- |
| 001 Control No | | | 5555 |
| 005 LastTransaction | | | 20140802153042.0 |
| 008 Data Elements | | | 030127s2002 enkabc b 001 0 eng |
| 020 ISBN | | $a ISBN | 978-0-415-28145-4 |
| 020 ISBN | | $a ISBN | 978-0-415-28146-1 (pbk.) |
| 035 System Ctrl No | | $a System control number | REF |
| 035 System Ctrl No | | $a System control number | (OCoLC)49299061 |
| 040 Cataloging Src | | $a Original cataloging agency | UKM |
| | | $c Transcribing agency | UKM |
| | | $d Modifying agency | C#P |
| | | $d Modifying agency | OCLCQ |
| 049 | | $a | DGUU |
| 050 LC Call No | 4 | $a Classification number | G1797.21.E29 |
| | | $b Item number | G583 2002 |
| 100 ME:PersonalName | 1 | $a Personal name | Gilbert, Martin, |
| | | $d Dates associated with a name | 1936- |
| 245 Title | 14 | $a Title | The Routledge atlas of the Holocaust / |
| | | $c Statement of responsibility | Martin Gilbert. |
| 250 Edition | | $a Edition statement | 3rd ed. |
| 260 PublicationInfo | | $a Place of publication, dist. | London : |
| | | $b Name of publisher, dist, etc | Routledge, |
| | | $c Date of publication, dist, etc | c2002. |
| 300 Physical Desc | | $a Extent | 282 p. : |
| | | $b Other physical details | ill., maps, ports. ; |
| | | $c Dimensions | 26 cm. |
| 500 General Note | | $a General note | First published 1982 as The Atlas of the Holocaust by Michael Joseph; Second edition published as The Dent atlas of Jewish History by J.M. Dent Ltd. |
| 504 BibliogrphyNote | | $a Bibliography, etc. note | Includes bibliographical references and index. |
| 520 Summary | 8 | $a Summary, etc. note | Using primary and secondary resources, Martin Gilbert created more than 314 maps to provide a chronological presentation of how the Holocaust evolved. The Atlas documents communities destroyed, acts of resistance, revolt, escape, rescue, and fate of individuals. |
| 650 Subj:Topic | 0 | $a Topical term | Holocaust, Jewish (1939-1945). |
| 650 Subj:Topic | 0 | $a Topical term | Holocaust, Jewish (1939-1945) |
| | | $v Form subdivision | Maps. |
| 700 AE:PersName | 1 | $d Dates of flourishing | 1936-. |
| | | $t Title of a work | Dent atlas of the Holocaust. |
| 852 Holdings | | $p Barcode | 6403 |
| | | $h Classification part | REF G1797.21 .E29 G583 2002 |
| | | $b Sublocation or collection | Reference Collection |
| | | $6 Linkage | BOOK |
| | | $7 | LIBRARY |
| | | $8 Field link and sequence number | 20051130 |
| | | $a Location | HMH |
| | | $9 Cost | $0.00 |
| 856 ElectronicLocat | 4 | $3 Materials specified | Cover image |
| | | $u Uniform Resource Identifier | https://covers.openlibrary.org/b/id/1213855-M.jpg |