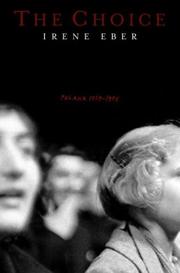 DS135
.P63
E234
2004
The choice : Poland, 1939-1945
New York : Schocken Books, c2004.
229 p. : ill., maps ; 21 cm.
A Holocaust survivor's powerful story of escape and renewal. In 1980, at the age of fifty, Irene Eber returned to her father's hometown of Mielec, Poland, where she and her middle-class Jewish family had first gone in 1938 when they were expelled one evening from their home in Germany. Her journey back would unleash a life's worth of memories, and the result is this extraordinary book. Eber re-creates life in wartime Mielec: the rivalries and opportunism, the acts of courage and generosity, the constant fear borne by the Jewish community, and the moment in 1942 when the Germans marched all of Mielec's Jews out of town and toward the death camps. And she reveals what was perhaps the defining decision of her life: when an opportunity arose for her to escape, Irene left, despite her father's desperate wish that the family stay together. Thus began her life-long journey toward reconciling her lifesaving grasp at freedom with her heartbreaking separation from her family, setting her on a path to self-acceptance. In describing her survivor's guilt, despair, and loss--and how she has managed to overcome them while still honoring her past--Irene Eber has made a significant and profoundly moving contribution to the literature of the Holocaust.
Available
General Collection
1 copy available at Holocaust Museum Houston
| | |
| --- | --- |
| ISBN: | |
| Author: | |
| Title: | |
| Edition: | First edition. |
| Publisher: | New York : Schocken Books, c2004. |
| Physical: | 229 p. : ill., maps ; 21 cm. |
| Notes: | |
| Subject: | |
| Subject: | |
| Subject: | |
| Call: | DS135 .P63 E234 2004 |
| Field | Ind | Subfield | Data |
| --- | --- | --- | --- |
| 001 Control No | | | 4429 |
| 005 LastTransaction | | | 20140610163348.0 |
| 008 Data Elements | | | 100428s19uu xx 00 eng d |
| 010 LCCN | | $a Record content licensor | 2003067353 |
| 020 ISBN | | $a ISBN | 978-0-8052-4197-6 (hardcover) |
| 100 ME:PersonalName | 10 | $a Personal name | Eber, Irene, 1929- |
| 245 Title | 14 | $a Title | The choice : |
| | | $b Remainder of title | Poland, 1939-1945 / |
| | | $c Statement of responsibility | by Irene Eber. |
| 250 Edition | | $a Edition statement | First edition. |
| 260 PublicationInfo | 0 | $a Place of publication, dist. | New York : |
| | | $b Name of publisher, dist, etc | Schocken Books, |
| | | $c Date of publication, dist, etc | c2004. |
| 300 Physical Desc | | $a Extent | 229 p. : |
| | | $b Other physical details | ill., maps ; |
| | | $c Dimensions | 21 cm. |
| 500 General Note | | $a General note | Includes bibliographical references and index. |
| 600 Subj:Name | 4 | $a Personal name | Eber, Irene. |
| 650 Subj:Topic | 4 | $a Topical term | Jews |
| | | $z Geographic subdivision | Poland |
| | | $z Geographic subdivision | Mielec |
| | | $v Form subdivision | Biography. |
| 650 Subj:Topic | 4 | $a Topical term | Holocaust, Jewish |
| | | $z Geographic subdivision | Poland |
| | | $z Geographic subdivision | Mielec |
| | | $v Form subdivision | Personal narratives. |
| 651 Subj:Geog | 4 | $a Geographic name | Mielec (Poland) |
| | | $v Form subdivision | Biography. |
| 852 Holdings | | $p Barcode | 9313 |
| | | $h Classification part | DS135 .P63 E234 2004 |
| | | $b Sublocation or collection | GENERAL COLLECTION |
| | | $6 Linkage | BOOK |
| | | $8 Field link and sequence number | 20100428 |
| | | $a Location | HMH |
| | | $9 Cost | $0.00 |
| 856 ElectronicLocat | 4 | $3 Materials specified | Cover image |
| | | $u Uniform Resource Identifier | https://covers.openlibrary.org/b/id/581854-M.jpg |
Editorial Reviews